Condolences: Our Losses
Condolences for
losses of classmate family members.
Our hearts are with you.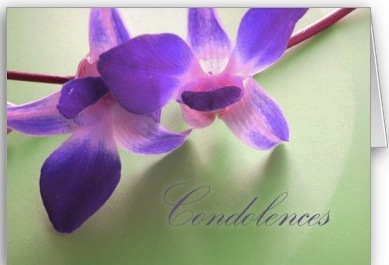 * indicates new entry
?* Josephine Kifer (Hnchman: Josephine lost her father, Merle Kifer (91) on May 8, 2015.
?* Michele Kent Woronka: Michele's husband, Richard 'Rick' Woronka passed away at age 57, May 30, 2015. The funeral is Friday, June 5. Obituary
* Peter Cowell: Peter lost both of his parents, Shirley Cowell (93) and James Cowell (87) on May 26, 2015.
?* Mike Bramlett: Michael lost his mother, Betty (83) on April 24, 2015. Obituary
Paul Morissette: Paul's sister, Helen, passed away near February 24, 2015. Paul wrote: "Her days of suffering are over and she now resides in Heaven. I loved her so for she was a friend and sister who could surf or play sports with me. Helen is and was the prettiest female surfer in Melbourne Beach during her days growing up when surfing began to explode. She was a true Floridian. ride the waves of Heaven......peace."
Patty Paige Geary: Patty's sister, Mary Paige (Class of '72), passed away Friday, January 22, 2015 and her brother, Frank, passed away soon after on February 3, 2015.
Richard Otto: Richard's father, William E. Otto, passed away on January 10, 2015, one day shy of his 87th birthday.
Larry Bell: Larry's mother, Gloria Flathmann Bell, Dr. Flathmann to many of us, passed away December 21, 2014 following a hip fracture. She was a dentist in Indialantic since 1960 and retired from practice just this past July. She was 88 years old and had been practicing for 65 years. Obituary
Donna Lishka Donsife Filip: Donna's mother, Maxine V. Lishka, passed away on November 26, 2014. Donna would also like to pay tribute to her dad, Lyle G. Lishka, whom she lost August 11, 2010.
John Frye: John's 35 year old son, Joshua, lost his life December 13, 2014, far too soon. Obituary
Larry Brillante: Larry's father, Orlando Brillante, passed away October 11, 2014, at the age of 89. Obituary
Deborah Lutz Payne: Debbie lost both her parents early September, 2014, Martha on 9/02/14 & Robert Lutz on 9/01/14.
Patty Paige Geary: Patty's brother, Leon Herbert Paige Jr, lost his battle with cancer July 25, 2014 at the age of 55.
Maria Pendry-Midgette: Maria's father passed away June 29, 2014.
Teresa Blizman Fitzsimmons: Teresa's beloved father, Andrew Blizman, a Korean War vet, passed away on Father's Day, June 15, 2014
Patty Stevens Ray: Patty's mother passed away June 6, 2014.

Mindy Sawyer Craine: Mindy lost her husband, Donnie Craine, in a tragic boating accident April 24, 2014
Ella Mae Mitchell-Wallace: Ella lost her mother, Margaret Roberson, on New Year's Day, 2014
Bruce Buggs: Bruce's mother, Ruth Buggs, passed away December 19, 2013
Debra Daniels: Debra's mother (Jean) passed away October 15, 2013
Shirley Blanding: Shirley's mother, Eliza Bell Jones, passed away October 11, 2013
Carolyn Egnoski Watson: Carolyn's mother, Betty Egnoski, passed away June 10, 2013 and is greatly missed by all the Egnoski girls.
Drew Huy: Drew's father passed away April, 25, 2013
Jerome Hardison's mother, Tommie Catherine Fudge-Kelley, passed away March 14, 2013
Janet Newquist Hunt: Janet's father, Walter Newquist, passed away February 15, 2013
Paula Michaels: Paula's father, John Michaels, passed away September 1, 2012
Bill Elliot: Bill's wife, Carolyn Elliot, passed away in June, 2012 after a long 3 year battle with brain cancer.
If you have any information on someone who should be listed here, please contact Lisa Donnelly at lisa@melhi73.com
UA-34515402-1