Melbourne High School
Class Of '73
Condolences
Condolences for
losses of classmate family members.
Our hearts are with you.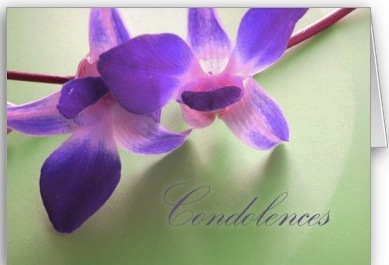 * indicates new entry
* Patty Paige Geary: Patty's brother, Leon Herbert Paige Jr, lost his battle with cancer July 25, 2014 at the age of 55.
Maria Pendry-Midgette: Maria's father passed away June 29, 2014.
Patty Stevens Ray: Patty's mother passed away June 6, 2014.

Donnie Craine: Mindy Sawyer Craine lost her husband in a tragic boating accident April 24, 2014
Margaret Roberson: Ella Mae Mitchell-Wallace lost her mother New Year's Day, 2014
Ruth Buggs: Bruce Buggs mother passed away December 19, 2013
Debra Daniels: Debra's mother (Jean) passed away October 15, 2013
Eliza Bell Jones: Shirley Blanding's mother passed away October 11, 2013
* Carolyn Egnoski Watson: Carolyn's mother, Betty Egnoski, passed away June 10, 2013 and is greatly missed by all the Egnoski girls.
Drew Huy: Drew's father passed away April, 25, 2013
Tommie Catherine Fudge-Kelley: Jerome Hardison's mother passed away March 14, 2013
Walter Newquist: Janet Newquist Hunt's father passed away February 15, 2013
John Michaels: Paula Michaels' father passed away September 1, 2012
Carolyn Elliott: Bill Elliot's wife passed away in June, 2012 after a long 3 year battle with brain cancer.
If you have any information on someone who should be listed here, please contact Lisa Donnelly at lisa@melhi73.com
UA-34515402-1